Books
Mission For 21st Century - Living With Nature In The Modern World
Saswathamaya Anandam Kaivarikam
Author
Y S Rajan
Malayalam Version of "In Pursuit of Happiness" Translated by Deepesh K Ravindranath
ISBN
978-81-8264-956-9
Publisher
Mathrubhumi Books, First Edition in 2010
Contact
Email:

This email address is being protected from spambots. You need JavaScript enabled to view it.


Telephone: 0495 2765388 / 2765381
Website: www.mathrubhumi.com
Author
Y S Rajan
On India's Educational Challenge In The 21st Century
With A Foreword By A.P.J.Abdul Kalam
ISBN
978-01-4341-541-1
Publisher
Viking The Penguin Group
Contact
Website: www.penguinbooksindia.com
Also available in online sellers like Flipkart and others.
Authors
A P J ABDUL KALAM & Y S Rajan
A Twenty - First Century Guide To The World Around Us
ISBN
978-06-7008-344-2
Publisher
Viking The Penguin Group
Year
2010
Contact
Website: www.penguinbooksindia.com
Discover Your Power Quotient - A Modern Arthasastra for those who want to be powerful
"A Modern Arthasastra for those who want to be powerful: This book will give you an insight into various types of power - money power, political power, media power, emotion power and several others and how you can assess your Power Quotient and see your career up"
Author
Y S Rajan
ISBN
978-81-7028-850-3
Publisher
Rajpal & Sons
Contact
Kashmere Gate, Delhi - 110 006
Email:

This email address is being protected from spambots. You need JavaScript enabled to view it.


Website: www.rajpalpublishing.com
Download here
Vetri A to Z - Tamil Version Of "A To Z Of Success"
Author
Y S Rajan
Tamil Version of A to Z of Success
EAN
C7A8DAB94FF14
Publisher
 Aazhi Publishers
Contact
12, First Main Road,
United India Colony
Kodambakkam, Chennai - 24.
Website: www.aazhipublishers.com
Shaktipunj Bhaaratvaasi (Hindi Translation Of Empowering Indians)
Safalata Ke 400 Sutra (Hindi Translation Of A To Z For Success)
Science Communication In 21st Century
An Extract From The Book "EMPOWERING INDIANS"
A To Z Of Success : A Companion For Youth
Author
Y S Rajan
ISBN
81-88322865
Publisher
Ocean Books Pvt Ltd
Contact
4/19 Asaf Ali Road,
New Delhi 110002
Email:

This email address is being protected from spambots. You need JavaScript enabled to view it.
Human Knowledge & Happiness
by Y.S.Rajan
 - R.B. Datar Memorial Lecture 2002 (pp.61)
Brought out by the Supreme Court Advocates-on-Record Association,
Golden Jubilee Bar Room, Supreme Court of India, New Delhi
Global Business Technology And Knowledge Sharing : Lessons For Developing Country Enterprises
Author
N.S.Sidharthan and Y S Rajan
Publisher
MACMILLAN INDIA LTD.,(2002)
Contact
2/10, Ansari Road,
Daryaganj, New Delhi - 110002
Website: www.macmillanindia.com
Choosing Career Paths (Science For Knowledge Society Series)
Author
Y S Rajan
Publisher
Har-Anand Publications Pvt. Ltd.,(2003)
Contact
F-1211,C.R.Park, New Delhi - 19.
Tel :011 51603490
Fax :0111 26270599
Email:

This email address is being protected from spambots. You need JavaScript enabled to view it.
Empowering Indians : With Economic, Business And Technology Strengths For The Twenty First Century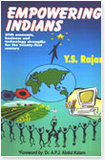 Author
Y S Rajan
Publisher
Har-Anand Publications Pvt. Ltd., New Delhi (2001)
Revised Reprint
2002
(Please take only the revised reprint in case you buy)
INDIA 2020: A Vision For The New Millennium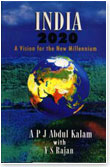 Author
Dr. A P J Abdul Kalam and Y S Rajan
ISBN
0-670-88271-2
Publisher
Penguin India - 1998
Contact
Website: http://www.penguinbooksindia.com
(Best selling book, paper back also available)
Many reprints since first published in 1998.
This book has been translated into Hindi, Marathi, Tamil,
Gujarati & Oriya. India 2020 is also available
in Kannada, Malayalam and Assamese.
Edited by B.L.Deekshatulu and Y.S.Rajan (1984),
Indian Academy Of Science, Bangalore.
The book contains a series of articles by eminent experts and practitioners most of whom were (are) the pioneers of satellite remote sensing applications in India. The papers contain the period of efforts from about 1974 to 1984 : Early experiments with Landsat imagery; computerised data and image processing; a host of applications for ground water, soils, agriculture, forest, international cooperation etc... Each paper contains a large number of references. In the current context, the book will be a good source for research into the growth of remote sensing in India leading the operational Indian Remote Sensing series. Those who need a copy contact Indian Academy of Science. Scanned copy may be available. 
Author
Y S Rajan
ISBN
81-7028-688-3
Publisher
Rajpal & Sons, (2006)
Contact
Kashmere Gate
New Delhi
Website: www.rajpalpublishing.com
Vignanam Nanbana Ethiriya? (Science - Friend Or Foe?)